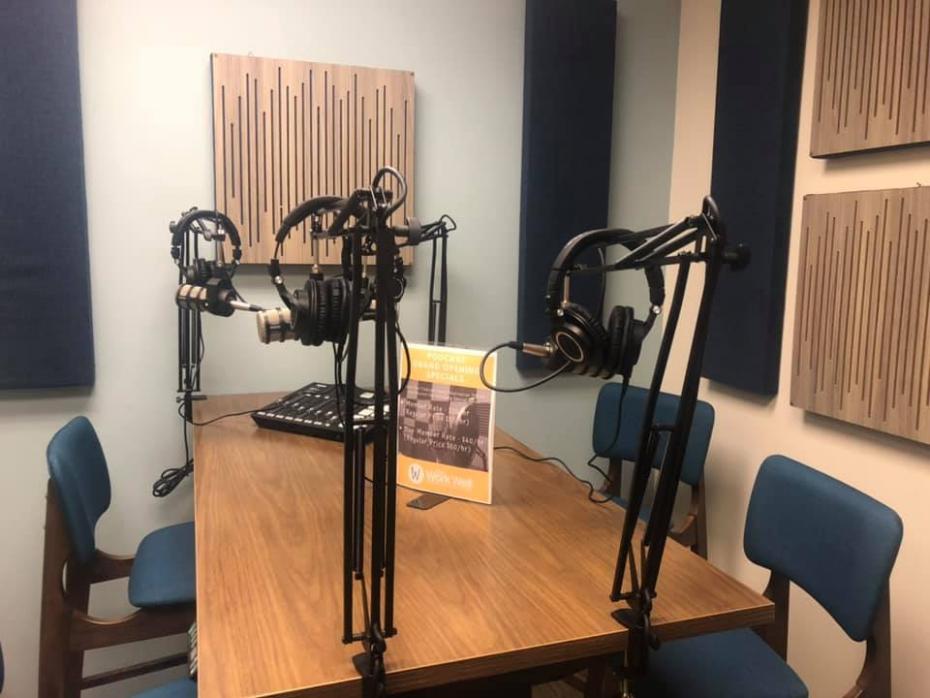 With the advent of this "new age" in business where the dissemination of information in a virtual format is paramount, podcast is becoming part of the lexicon. What was once reserved for authors, celebs and doctors is now an integral part of business. The Work Well understands this and touts their podcast booth as the best thing since, well…flexible workspace!
According to Business News Daily, this form of media has grown in popularity since its inception in 2005. Nearly 51% of the U.S. population has listened to a podcast, up 7% from just last year. Listeners enjoy an average of seven shows per week, with 80% listening to all or most of each podcast episode. 
The podcast booth can be used by members and non-members alike for any audio-based projects or work. They provide the commercial-grade equipment and all you have to do is show up with your laptop and your creativity. Here's a few ideas to making your podcast shine.
Housekeeping
Business News Daily advises that the first step is deciding what you'd like the focus of your podcast to be. You need to find a happy medium between a topic that is broad enough that you can explore many different aspects of it, and one that is narrow enough to attract an audience with that specific interest. 
The Possibilities
The possibilities of podcast are endless: Hobbies, music, family interviews for heirloom, marketing, tutorials and voice-overs are just a few of the many creative outlets.
Authenticity
The most successful podcasts provide targeted content in a conversational, engaging style, according to the pros at Business News Daily. Podcasting is no place for a script. A short topic outline might prove helpful, but successful podcasters don't use scripts, because they lead to stilted language that doesn't resonate with listeners. Podcasts that feel canned simply won't cut it.
Be authentic. Talk about what you know. Listeners want to get to know you. When you've won the hearts of your listeners, they will trust you, which makes for a long successful relationship.